François Fejtö, journalist, political scientist, historian
Refugee from Hungary between 1950 and 1955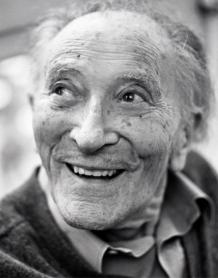 He was born Fischel Ferenc on 31 August 1909 in Nagykanizsa. His father, who was of Jewish descent, was a bookseller and printer. Fischel Ferenc studied literature at the Faculty of Pécs because the anti-Semitic numerus clausus in force prevented him from being accepted at the University of Budapest and he became involved in politics. A member of the Social Democratic Party from 1934, he collaborated with the poet Attila Jozsef to establish the literary and political magazine Szép Szó in 1935, a magazine that was known for its anti-fascist and anti-Stalinist stance. Sentenced to six months in prison in Budapest, he came to France on 15 August 1938 where he worked as a translator and journalist. During the war, he volunteered for the 22nd Marching Regiment and then for the Resistance in Lot. Back in Paris, he worked at Agence France Presse and then as director of the press service of the Hungarian Legation, from which he resigned on 1 August 1949 due to a difference of opinion with the government of his country. He was granted refugee status in 1950. He was naturalised in 1955.

François Fejtő has devoted most of his career to the study of Eastern European regimes. He is one of leading Western specialists on the evolution of the communist world. His book, A History of the People's Democracies, published in 1952, has been translated into seventeen languages and republished several times over. At the time of the famous Moscow trials, he was one of the first to condemn the crimes of Stalinism, and his book La tragédie hongroise (The Hungarian Tragedy), Budapest 1956, outlined the origins of Hungarians' fight against the Soviet occupiers.

In both France and Hungary, François Fejtő participated in politics as a political analyst and later as Ferenc Gyurcsány's advisor.
François Fejtö died on 2 June 2008 in Paris. He was awarded the National Assembly Prize (1993) and the Ambassadors' Prize (2000) for his life's work.
He was Chevalier de la Légion d'Honneur (Knight of the Legion of Honour). A day of national mourning was declared in Hungary for his funeral.