Yilmaz Güney, filmmaker, actor and writer
Refugee of kurdish origin from Turkey between1981 and 1984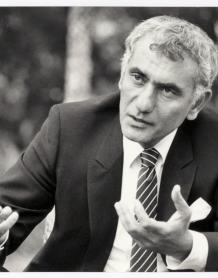 He was born Yilmaz Pütün on 1 April 1937 in a village in southern Anatolia, near Adana, Turkey. His father was a farm worker of Kurdish descent. Yilmaz Pütün worked from a very young age as a water carrier, farm worker, cotton picker, butcher's apprentice and public writer. Nevertheless, he studied law and economics in Istanbul and began to write short stories. He started acting in 1958 and soon became a big star, appearing in about 100 action films.

In 1968, he gave up his stardom and began to make films on social issues, influenced by Italian neo-realism, which for the first time brought to the screen the Kurds, the peasant world and the simple life of suburban folk. This is how "Umut" (Hope) (1970) put him on the map in France.
Accused of communist propaganda and separatism, Yilmaz Güney spent a dozen years in prison after the 1970 military coup. Sentenced to more than a hundred years in prison for his writings and films by the Turkish military junta in 1980, Yilmaz Güney managed to escape and landed in Marseille on 15 October 1981. He immediately applied for asylum and was recognised as a refugee.

In France, he focused on editing "Yol" (Leave), a film that tells the tragic story of five Kurdish prisoners during their leave. This film, which was made in detention and whose rushes were smuggled out of Turkey, won the Palme d'Or at the Cannes Film Festival in May 1982, before becoming a worldwide success. In 1983, Yilmaz Güney was stripped of his citizenship by the Turkish government. He then directed his last work "Duvar" (The Wall), a film about the child prisoners of the central prison in Ankara.

Yilmaz Güney died on 9 September 1984. In 1992 his films were allowed into Turkey on condition that the words "Kurd" and "Kurdistan" were censored.
In 1995, the lifting of the ban on his work was made official with the screening of his major films at the Ankara Film Festival.