Paul Evdokimov, theologian
Refugee from Russia between 1929 and 1970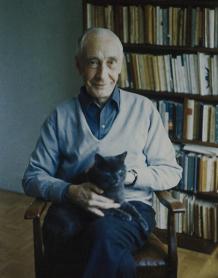 He was born Paul Nivolaevitch Evdokimov on 2 August 1901 in St. Petersburg, into a Russian aristocratic family. His father, an officer, was murdered in 1907. Paul Evdokimov attended the cadet school and then began studying theology when, in 1918, he was drafted into one of the White armies created that year to fight the Bolsheviks. He fought for almost two years. During the meltdown, Paul Evodkimov went into exile in Constantinople and then in Paris in September 1923.

While completing a bachelor's degree in theology and then a thesis in philosophy on Dostoyevsky and the issue of evil, Paul Evodkimov became the first secretary of the Russian Students' Christian Action in France. After the onset of World War II, he joined the Resistance with his Protestant friends of the Comité Inter-Mouvements Auprès Des Évacués - CIMADE (Inter-Movement Committee for Evacuees) (Cimade), of which he became a leader.

In 1945, after the death of his wife, Paul Evdokimov decided to devote himself to refugees, working alongside the Cimade. He ran the association's reception centre in Bièvre and then, until 1968, the Sèvres student hostel, which later moved to Massy. He refused an invitation to teach at the Faculty of Arts in Bordeaux because this would have forced him to apply for French citizenship and yet he wanted to remain a Russian refugee.
A member of the World Council of Churches, he became a professor at the St. Sergius Institute where he taught the history of Western Christianity and moral theology. He wrote many books, including Ages of the Spiritual Life in 1964, and The Art of the Icon: A Theology of Beauty, completed in 1967 but not published until 1970.

Paul Evdokimov died on 16 September 1970.