Pierre Viaux, born in 1945
Director of Ofpra from February 2003 to August 2004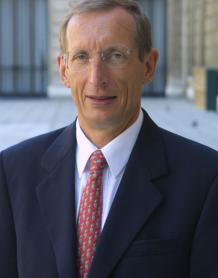 Minister Plenipotentiary
Distinctions : Officier de la Légion d'honneur et de l'ordre national du mérite
Pierre Viaux is a graduate of the Institute of Political Studies (IEP) and a former student of the ENA Institute (André Malraux class of 1977). He served as Chief of Staff for the prefects of Var and Pas-de-Calais in 1977 and 1978, respectively. Additionally, he served as Chief of Staff of the Minister for the Environment and Life Quality in 1979, then went on to be the Deputy Head of the Communications Department of the Ministry of the Interior. He joined the General Directorate of Scientific and Technical Cultural Relations of the Ministry of Foreign Affairs in 1981. Second Counsellor in La Paz from 1982 to 1984, he returned to the central administration of the Ministry in 1984. He was Consul-General in San Francisco from 1986 to 1990, Secretary-General of the Inter-Ministerial Mission for Central and Eastern European Countries from 1991 to 1992, and then Consul-General in Sao Paulo from 1992 to 1995.
He was French Ambassador to the Seychelles in 1995 before becoming Director of Sports at the Ministry for Youth and Sport in 1996, then moved on to Secretary-General of the French delegation to the United Nations General Assembly in New York in 1999.
He was French Ambassador to Australia in 2000 before becoming Director of Ofpra.
He later served as French Ambassador to Austria from 2004 to 2008.
Pierre Viaux was a member of the French athletics team and Director-General of the French National Olympic and Sports Committee.