François Dopffer, born in 1941
Director of Ofpra from September 1988 to August 1991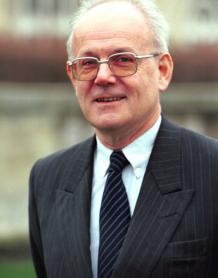 Minister Plenipotentiary
Distinctions : Officier de la Légion d'honneur ; Commandeur de l'Ordre national du mérite
François Dopffer holds a law degree. In addition, he is a graduate of the Institute of Political Studies (IEP) and is a former student of the ENA Institute (Marcel Proust class of 1967). He was posted to the Atomic Affairs Directorate at the Ministry of Foreign Affairs from 1967 to 1969, and then served as Second Secretary in Bucharest until 1971 and later First Secretary in Tokyo until 1975.
He worked at the Centre for Analysis and Forecasting of the Ministry of Foreign Affairs from 1975 to 1976, and was head of the "Cambodia, Laos and Vietnam" department in the Political Affairs Directorate until 1978.
He was Inspector of Diplomatic and Consular Posts from 1978 to 1980, then Inspector of Foreign Affairs in 1981. He then went on to serve as First Counsellor in Washington from 1981 to 1984 and Minister-Counsellor in Algiers before becoming Director of Ofpra.
After leaving Ofpra, he was French Ambassador to Turkey until 1996, and later Director of Asia and Oceania at the Ministry, after which he was appointed French Ambassador to Egypt from 2000 to 2002. Additionally, he was Diplomatic Counsellor to the government from 2002 to 2004 and Head of the Inter-Ministerial Mission for the Reconstruction of Iraq in 2003. He retired in 2004.
He is the author of L'imbroglio turc ("The Turkish Imbroglio") (Lignes de Repères Publishers, 1970)