Marek Kirszenbaum, Former Research Director at the French Atomic Energy Commission, biologist, immunologist
Stateless refugee from Poland between 1969 and 1976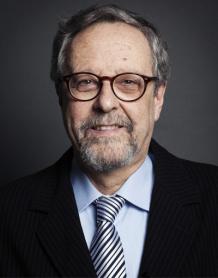 Marek Kirszenbaum was born on 10 January 1947 in Warsaw, Poland. A chemistry student at Warsaw University, he was forced to leave his country in 1968, a victim of the anti-Semitic policies of the government of the time. His citizenship was then withdrawn.

Exiled to France in November 1968, Marek Kirszenbaum was granted stateless ex-Polish refugee status in 1969. Thanks to this status and a CROUS grant, he was able to continue his studies at the Faculty of Sciences in Paris. In 1971 he obtained his doctorate in chemistry and physics and was awarded a scholarship from the French Alternative Energies and Atomic Energy Commission (CEA). In 1976 he obtained his Ph.D. in Science and in 1977 he joined the CEA as a research engineer.

Marek Kirszenbaum is one of the pioneers in France who introduced molecular biology techniques to the medical industry. He began researching the molecular mechanisms of the immune system and embryogenesis in 1981.

His work was rewarded in 1988 with the CEA's highest scientific distinction: "CEA Medal and Prize".
He continued his research on the molecular mechanisms of immune tolerance between the mother and her foetus during pregnancy and introduced new concepts of the immune response.

Head of the Gene Expression Research Group, he discovered and characterised a new gene and the corresponding protein involved in the immune function of blood "natural killer" cells.

Appointed Deputy Director of the Neuro-Virology Department, he studied the interactions of the HIV/AIDS virus with blood stem cells and identified a novel molecular mechanism by which viruses destroy these immature cells. This discovery could contribute to an expansion of treatment options for HIV infections.

Marek Kirszenbaum is the author of numerous scientific papers in peer-reviewed journals and presented at international conferences. His research has also led to the publication of several international patents.

Currently an international consultant, Marek Kirszenbaum is an Associate Professor at the Notre Dame of Haiti University in Port-au-Prince, and a member of the American Society for Microbiology (ASM). He draws on his experience to strengthen the health systems in low-income countries through initiatives led by the Centers for Disease Control and Prevention (CDC) and the ASM, in Haiti and francophone Africa.
In 2017, he is made "Chevalier dans l'ordre national de la Légion d'honneur".