Catherine de Károlyi, Stylist
Refugiee from Hungary between 1948 and 1954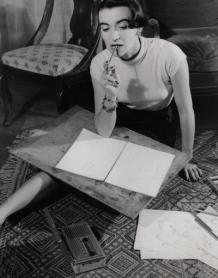 She was born Catherine Pólya on 1 September 1919 in Budapest, the only daughter of painter, poster artist and cartoonist Tibor Pólya. She was very gifted in drawing and fascinated by fashion, which is the path she eventually chose. She married the young Count Étienne Károlyi in 1945.

Catherine and her husband decided to leave Hungary in 1947 when the Communist Party disbanded all other political forces and the Károlyi family's land was transferred to collective ownership and their possessions seized. Their initial intention was to travel to Argentina. Later, the Argentina plan was shelved, namely due to the eruption of the Peronist revolution, and the family remained permanently in France under refugee status.

Catherine de Károlyi became a model, then a designer for the couturier Robert Piguet. She divorced in 1953 and acquired French citizenship through her remarriage to a French citizen – author and screenwriter Raymond Assayas, known as Jacques Rémy. Having made a name for herself in the fashion industry as "Catherine de Károlyi", she chose to retain this "professional" name. She designed for Jacques Fath and Christian Dior, and opened her own fashion house under her own label. In 1967, she created the first women's ready-to-wear collection for Hermès. Until 1980, she designed accessories (bags, belts, squares, etc.), some of which became classics, like the H belt buckle.

She died on 30 October 2006. Her career is described in the exhibition and catalogue titled "Fashion Mix, mode d'ici créateurs d'ailleurs" (Fashion Mix: Local Fashion, Foreign Designers) of the Museum of History and Immigration. Catherine de Károlyi's first son, Georges, is the Chairman of the Joseph Károlyi Foundation that was established in 1994. The family's stately estate houses a European Cultural Meeting Centre – which is part of the European network bearing the same name – as well as a European Documentation Centre based on the François Fejtő Library. In 2014 he was appointed Hungarian Ambassador to France. Catherine de Károlyi was the mother of filmmaker Olivier Assayas and journalist and writer Michka Assayas.