Jean-François Terral, born in 1948
Director of Ofpra from June 1996 to June 2000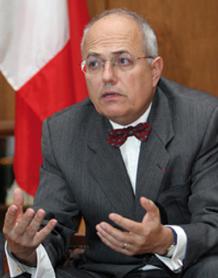 Minister Plenipotentiary
Distinctions : Chevalier de la Légion d'honneur et de l'Ordre national du mérite
Jean-François Terral is a graduate of the Political Studies Institute (IEP), holds a degree in public law and is a former student of the ENA Institute (Léon Blum class of 1975). He was posted to the Ministry of Civil Aviation before being seconded to the Ministry of Foreign Affairs and appointed to the Permanent Mission of France to the United Nations Office in Geneva in 1981.
He joined the corps of foreign affairs counsellors and secretaries and was Second Counsellor then First Counsellor in Warsaw from 1988 to 1992. He was Head of the Foreigners' Department in France in 1992 before becoming Director of Ofpra.
After he left the Office, he was French Ambassador to Macedonia in 2000, to Serbia in 2007 and to Luxembourg in 2011.
He has been retired since 2013.