Georges Cziffra, pianist
Refugiee from Hungary between 1957 and 1968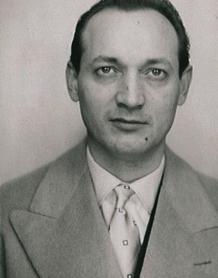 György Cziffra was born on 5 November 1921 in Budapest into a Gypsy family. He grew up in poverty and taught himself to play the piano on the upright piano his sister bought with her first savings. He started performing at the age of five in circuses. His virtuosity and sense of improvisation brought him to the attention of the Franz Liszt Academy of Music, which he entered at the age of nine despite his lack of classical training.

In 1942, he was sent to the army and his unit went to fight on the Russian front with the Axis forces, as did the 200,000 men committed by Hungary to the Eastern Front. After escaping, he was captured by the Russians and imprisoned for two years. In 1946, he was discharged. He tried to flee the Soviet occupation in 1950 but was captured and sentenced to three years of hard labour, which he spent in a quarry, moving stone blocks by hand. In 1956, on the eve of the Soviet operation in Budapest, he was finally able to flee the country with his wife and son. Recognised as a refugee in 1957 by Ofpra, he settled in France. He became a French citizen in 1968 and settled in Senlis, where he became Georges Cziffra.

Cziffra is such an icon of pianistic genius that the decay of human societies, wars and persecutions have failed to destroy. Although a virtuoso, he had to perform wearing leather braces serving as prostheses due to the after-effects of forced labour and to appear in public with his now legendary leather wristband. In 1966, he founded the music festival of La Chaise-Dieu in Auvergne. With his earnings, he bought the former Saint-Frambourg Gothic chapel in Senlis and transformed it into the Cziffra Foundation in 1975, which works tirelessly to support young artists, especially musicians, but also sculptors and painters.

In his autobiography, Des canons et des fleurs (Canons and Flowers), published in 1977, he recounts the significant stages of his career. He died in 1994.