Commander Robert, resistant, liberator of Foix
Refugee from Spain between 1939 and 1947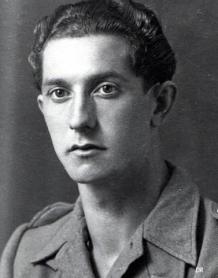 He was born José Antonio Alonso Alcalde on 14 April 1919, in the mining region of Asturias. He fought in the Republican Army throughout the Civil War (1936-1939), which pitted the elected government against the troops of General Franco. When Barcelona, the last Republican stronghold, fell into Franco's hands at the beginning of 1939, José Antonio Alonso Alcalde crossed the Pyrenean border on foot, as did over 450,000 Spaniards.

Like many of these exiles, he was interned in a camp. After the onset of World War II, he was enlisted in the Regiment of Foreign Volunteers and then, in the autumn of 1943, he joined the guerrillas at the Col de Py (commune in Herm) in Ariège.  He became Chief of Staff of the 3rd Ariège Brigade under the name of Commander Robert and enhanced and restructured the guerrilla group. He was sought by the four men dispatched by the Allies to liberate the area, led by the future General Bigeard.  Under his leadership and solely with the assistance of Spanish fighters, the town of Foix was liberated on 19 August 1944. He then took part in the battle of Castelnau.

Commander Robert was one of those who, in October 1944, made an attempt to establish a bridgehead in Val d'Aran to fight against the Franco regime. This attempt failed and, unable to return to Spain where Franco continued his years-long ruthless pursuit of those vanquished during the war, he was recognised as a refugee. He became French in 1947.

José Antonio Alonso is an honorary citizen of the town of Foix. His distinctions include: Chevalier de la Légion d'Honneur (Knight of the Legion of Honour), Gold Medal of Asturias, Knight of the Legion of the Polish Republic and Medal of Loyalty to the Spanish Republic.