Contact and practical information
How to get to Ofpra ?
If you are called for an interview, you will find the address where it will take place on the letter of convocation sent to you. The majority of interviews are held at the Ofpra headquarters :
201 rue Carnot
94 120 Fontenay-sous-Bois
Fontenay-sous-Bois is connected to the national motorway network via the A86, which takes you to the Parisian dual carriageway ring road, the A1 motorway up to the North of France and the A4 motorway towards the East of France and part of the Département.
You can also reach Ofpra by public transport from Paris by taking the RER A or the RER E, to Val-de-Fontenay station.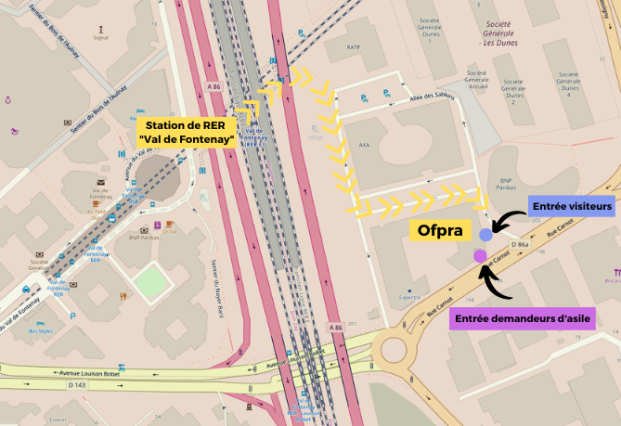 Attention ! Ofpra regularly travels to mainland France and overseas as part of missions beyond the walls. The address at which you are expected for your interview is indicated on your invitation; if you are summoned as part of an Ofpra mission, your interview will take place in your region.
How to contact Ofpra ?
By mail
You can contact Ofpra by post, by sending your letters to :
OFPRA
201 rue Carnot
94136 Fontenay-sous-Bois Cedex
Attention ! Please indicate your Ofpra application number on each of your correspondences.
This number can be found on your introductory letter or your summons to the interview.
By telephone
You can reach the Ofpra reception at 01 58 68 10 10, Monday to Friday, 9:00 AM to 3:00 PM.
Depending on your request, you will put you in touch with the competent service.
Remember to haveyour Ofpra application numberwith you as well as all the letters that have received from us.
Please note that no information regarding the progress of your application will be communicated over the telephone.